Ambler Dumpster Rental
Call (484) 357-0599 Today for Dumpster Rentals in Ambler PA 19002
Ambler Dumpster Rentals in Pennsylvania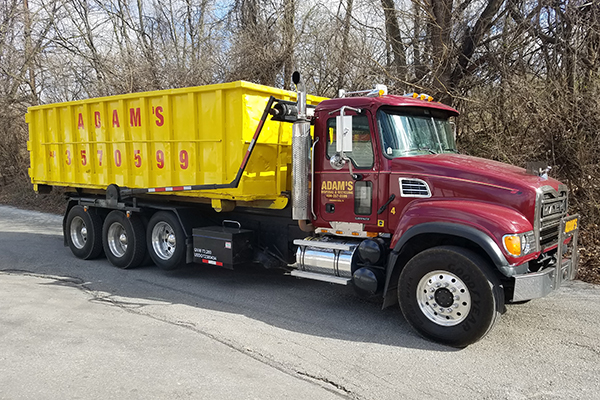 When you're looking to clean up your property in Ambler PA, remove your trash responsibly with a dumpster rental from Adam's Disposal & Recycling Service. We are a family owned and operated container rental company that is based in Pennsylvania. Our company is both licensed and insured through Montgomery County, Delaware County, Bucks County, Chester County, and Philadelphia. When you call us, we will discuss the best options available to remove the rubbish from your home, yard, or place of business. Remove the clutter from your home today by renting a dumpster from Adam's Disposal & Recycling Service.
At Adam's Disposal & Recycling Service, we seek to provide our customers in the Ambler PA area with more than just quality dumpster rentals. We also strive to exceed your expectations with excellent customer service and reliable results. Additionally, our dumpster rental company offers no charge for the distance we must travel to deliver your container. Give Adam's Disposal & Recycling Service a call today to discuss all of your dumpster rental needs. We would love to accommodate you.
Ambler Roll Off Dumpster Rentals
If you are renovating your home or place of business in Ambler PA, consider renting a roll-off dumpster. These containers are offered in 10, 15, 20 and 30 cubic yards. This variety allows you to select the perfect-sized dumpster for your renovation project. Our professional staff will haul your dumpster to a desired location within the Greater Philadelphia area of Pennsylvania, whether it is in your driveway or parking lot. When you are finished discarding your rubbish, simply give us a call and we'll remove the dumpster and your waste from the property.
When you are deciding upon what size of dumpster rental is right for your project, it is important to consider the size of the junk you are removing as well as the type of debris being removed. Our 20-yard container is the most popular dumpster rented by residents in Ambler PA. Typically, this dumpster is large enough to accommodate most residential waste removal tasks; it also easily fits into most driveways. Remember, when you choose to rent a dumpster from Adam's Disposal & Recycling Service, the rented container on your property will be placed on top of wood in order to prevent damage caused by its weight.
Ambler Container Rental in Pennsylvania
For individuals searching for dumpster rentals in Ambler PA, Adam's Disposal & Recycling Service offers affordable dumpster rental services for both commercial and residential locations. If this is your first time looking to rent a dumpster, our professional staff understands it can be confusing. Call us at (484) 357-0599 or fill out our contact form for more information. We will be happy to accommodate your junk removal needs and discuss the best dumpster rental options for your cleanup or clean out project.
All waste collected in dumpster rentals from Adam's Disposal & Recycling Service are delivered to a demo recycling facility. There, all recyclable materials are removed from the waste. On average, we've found that 80-90% of the materials gathered from renovation projects can be recycled. Whether you are a contractor who needs dumpsters for a series of jobs or a homeowner looking to clean up their property, Adam's Disposal & Recycling Service is happy to accomodate your dumpster rental needs.
Dumpster Rental Sizes Include:
10-yard Dumpster Rentals
15-yard Dumpster Rentals
20-yard Dumpster Rentals
30-yard Dumpster Rentals
Temporary Dumpster Rentals
Permanent Dumpster Rentals
---
If you are searching Ambler dumpster rentals or are in need of Ambler dumpster rental services near the Ambler PA 19002 area, call Adam's Disposal & Recycling Service today at (484) 357-0599 or fill out our contact form here.
---

Adam's Disposal Service
Monday-Friday: 8:00AM – 5:00PM
Saturday: 8:00AM – 12:00PM
Phone: (484) 357-0599
---